Write-A-Bill Contest -- Win a Kindle Fire!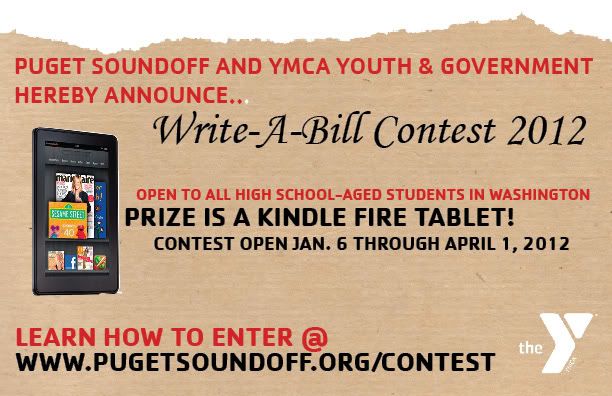 GET STARTED!
STEP ONE: REVIEW THE CONTEST RULES
Contest Rules
Participants must be between the ages of 13-18
Submissions should follow the formatting guidelines below.
Bills should be submitted as a blog post on Puget Soundoff and tagged "writeabill2012"
One winner will be chosen by our Write A Bill Committee. Winner will receive a Kindle Fire.
Download the contest ruels and formatting guidelines

STEP TWO: DO YOUR RESEARCH!
STEP THREE: WRITE YOUR BILL
Check out a Sample Bill
Read the Formating Rules
Download the Bill Template

And write that bill!

Don't forget: bills should be submitted as a blog post on Puget Soundoff and tagged "writeabill2012"